The house is situated:
3 km from the medieval town of Montefiascone;
10 km from Viterbo and the exclusive Terme dei Papi spa;
14 km from Bolsena, with its castle and the Basilica of Saint Christina;
15 km from Civita di Bagnoregio, the "dying city" in Calanchi Valley;
25 km from Tuscania with its spectacular Etruscan tombs;
30 km from Orvieto, less than an hour drive from the amazing sights of the Maremma region (Porto S. Stefano, Pitigliano, Saturnia, Vulci);
100 km from Rome;
150 km from Siena;
200 km from Florence.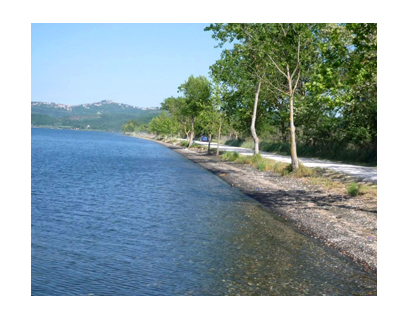 Lake Bolsena's sandy beaches can be reached by car in five minutes. The water is crystal clear and inviting, the sandy lake bed is shallow and an ideal bathing area for children. In the winter, the lovely beaches offer plenty of wonderful walks.
The beach path between Marta and Montefiascone is perfect for cyclists, who can enjoy beautiful views of the islands Martana and Bisentian, as well as kilometres of picturesque surroundings.
For those who like walking, it may be useful to know that Montefiascone is at the hundredth kilometre of the historic pilgrim routes Via Francigena and Via Romea.
LThe proximity to several vineyards (this is where the famous muscat wine "Est! Est!! Est!!!" originates), museums, monumental churches and basilicas is what makes the region so attractive to visitors who are looking for culture and knowledge.
Those interested in gastronomy will appreciate the region's many restaurants (some of them we can heartily recommend!) that offer traditional dishes from Viterbo, a cuisine known for being light, genuine and very tasty. In Dante Alighieri's Divine Comedy, Pope Martin IV (Bonagiunta da Lucca) is described as being a glutton for the eels of Lake Bolsena cooked in Vernaccia wine – his favourite dish:
"/.../and that face beyond him, pierced / Unto a leaner fineness than the rest; / Had keeping of the Church; he was from Tours, / And purges by wan abstinence away / Bolsena's eels and cups of muscadel."(Purgatory, Canto XXIV, 21–24).
Pope Martin IV from Tours, crazy about eels in white wine, is fasting in purgatory to expiate his sin of gluttony. Dante also mentions another site in the near vicinity, which definitely deserves a visit. Bagnaccio (called "Bullicame" at the time of Dante), just outside Viterbo, is known for its hot sulphur springs that were renovated only recently. You can enjoy a hot soak outside while you're there, even at night time. (The entire citation from Dante is a bit too long to include, but if you're interested you can find it in Inferno, Canto XIV, 76-84).